Cedar Siding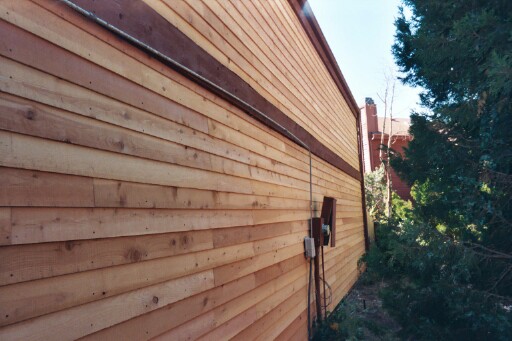 Cedar siding, or "shakes" as they're called gives a natural unfinished look. It has a wonderful looking textured tactile grain, combined with warm light brown and deep brown colors. Cedar siding usually remains subtly aromatic, and the appealing fragrance of cedar adds another benefit to the ever so popular wood.
Cedar siding also contains natural oils that help protect the wood against rot, decay, and insects. Cedar siding is also a stable type of wood that never buckles or curls. When properly maintained, cedar siding will last for years to come and will age gracefully.
Apart from the natural look and beauty it provides, cedar siding also provides some financial benefits as well. The cedar siding wood's cellular structure creates interior air spaces that give it an insulation value higher than most woods and much higher than brick or concrete. Homes or buildings with cedar siding tend to stay cooler in the summer and warmer in the winter. Cedar siding also has excellent sound suppression and absorption qualities. Cedar siding will pay for itself with increased curb appeal and durability. Although cedar siding is initially a higher investment than other options such as fiber-cement siding, Cedar siding will also add far more value to your home than other choices.