Copper Gutters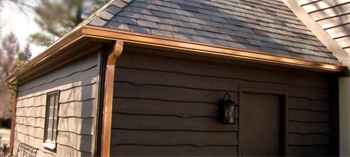 Durability:
Copper gutters are made to withstand even the harshest of elements, season after season, year after year.They expand and contract along with temperature changes, however, copper fails to weaken in structure.Traditional gutters (typically made of aluminum, stainless and galvanized steel, or vinyl) need to be replaced more frequently than their copper counterparts. Properly installed copper gutter systems can last over 100 years and are also virtually maintenance free. They, of course, still require occasional cleanings but fail to rust, rot, or require coats of paint. While other parts of your home may require renovations over the years, you can rest easy knowing that your copper gutter systems will still be efficiently directing water away from your home's foundation, keeping your basement dry and your partner happy.

Style:
Beyond their practicality, copper gutters aesthetically set your home apart from others. Their subtle bronze tones can add highlights to any home's exterior. Or, when weathered, copper gutters oxidize leaving behind a patina wash of green. Patina adds antique charm and givesyour home's exterior a pop in color that distinguishes yours from all of the rest on the block.

Price:
There is no denying that copper gutters are the most expensive material option when it comes to home gutter systems. Prices vary according to sizes and shapes of the gutter systems and the amount of materials used. Keep in mind that copper gutter systems often last longer than a life time and are maintenance free. You will not have to pay to replace them several times over the years. In fact, copper gutters actually add value to your home due to the popularity and elegance of patina and the structural integrity of the copper.